Sometimes I see more than 1 desktop pool available. Why and which one do I connect to?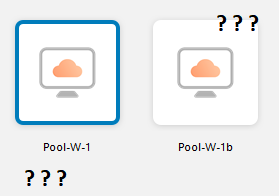 Occasionally we need to update multiple desktops at once (maintenance, outage, etc). During this transition, multiple desktop pools may be available to you. As a general rule- first try the one you were using previously. If it does not work, try the other pool(s) you have available. If none of the pools present are working to allow you to connect please reach out to the helpdesk.
What do I do if I am in a desktop and I get a message that says: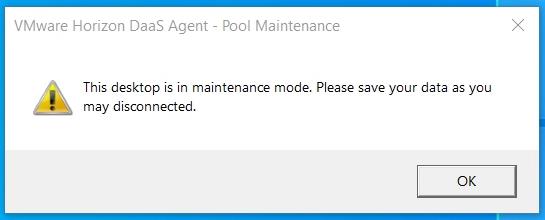 This just means we have changed the pool that you are in and put it in maintenance mode. This is just a warning and unless you experience any issues from the desktop you're currently in please continue to work as normal unless directed by tech or your leadership team to switch into a different desktop pool.
Sometimes I see 2 desktop pools and I cannot get in to the one I clicked on. It tells me the desktop is offline: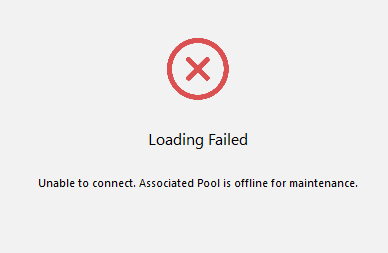 This message means we are actively working on that desktop pool and it is currently closed to new connections. You should see another pool available, try to connect to it instead.
I am having issues with dropping or audio quality within the virtual desktop.
Everyone's desktop is brand new and you are on the same network as all others. When this happens, a common cause is a local ISP issue or poor connectivity in your home network. The one exception is when everyone experiences this issue at the same time. This is why it is important do a local speed test, open a support ticket, and follow the standard troubleshooting procedure. If there is an outage or widespread issue steps will be communicated to you of what you need to do.
I usually work from the Evolve-West desktops, but I have been asked to work in the East (or vice versa). Should I continue to use that location in the future?
In most cases no. Unless otherwise stated, you should work the rest of your shift in that location. On your next shift, you should work in the same location as the rest of your team.
Which set of desktops am I supposed to be using? East or West?
This depends on your team. If you're unsure reach out to your operations team or to the help desk.
Why aren't my bookmarks or files I have saved to the desktop staying in the virtual desktop?
This is by design both for security and performance. When you log in you are given a brand-new desktop each time. It is customized based on your team and should have everything you need. If something is missing (bookmarks, app, etc) please let your operations team know. There may be reasons we cannot add some resources but, in most cases, we try to make the desktop as convenient as possible.
When I first login, my desktop feels slow.
Although you see the desktop within the first 30 seconds of logging in, because it is new, it is still getting things ready. There is a lot of processing happening in the background so it may feel slow. The general rule is when you see the Teams login prompt, the desktop is ready.
Should I use teams within the desktop?
Yes. Teams is there for your convenience. You can use the app version or the web version (within your bookmarks). The one exception is when you do a video or voice call. If you are joining a team or company event with more than one person, it is best to load teams locally and call in from there.
Every time I sign into Bright Pattern in the virtual desktop I get this error:

Sometimes BP in the virtual desktop needs a little bit of extra time to get going. If you have the above error as soon as you sign into Bright Pattern, wait for just a couple of seconds then refresh the tab you have it open in. This should clear the error, but if for some reason it does not- please open a ticket with the helpdesk.
How was it I was supposed to sign out again?
You can perform what we call a 'graceful log off' by selecting options > disconnect and log off from the control bar that pops down from the top of the screen / is across the top of the window. More info can be found here.