Hello there!
If you're here, you've been directed to (re)install the VMware Horizon Client.
The good news is that it's super simple.
To start your download, click HERE.
Your download should begin shortly. Then once it is completed, open and run the file. When the installation commences, you should not be prompted for any configuration. If you are prompted for a security check, please proceed by selecting 'yes'.
After your installation finishes you will see the screen below asking if you would like to restart now or later. Please select to restart later.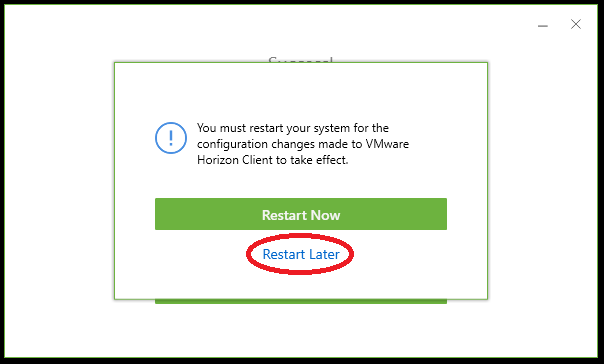 Congratulations! You've successfully installed the VMware Horizon client.
Did your install not go as planned? Did the circle fill up part of the way only to give you an error message and 'drain' back away? Or maybe you encountered another issue- no worries! Please let your friendly neighborhood help desk know (screenshots greatly appreciated) and we'll be happy to help! Don't already have an open ticket? Open one with us HERE.